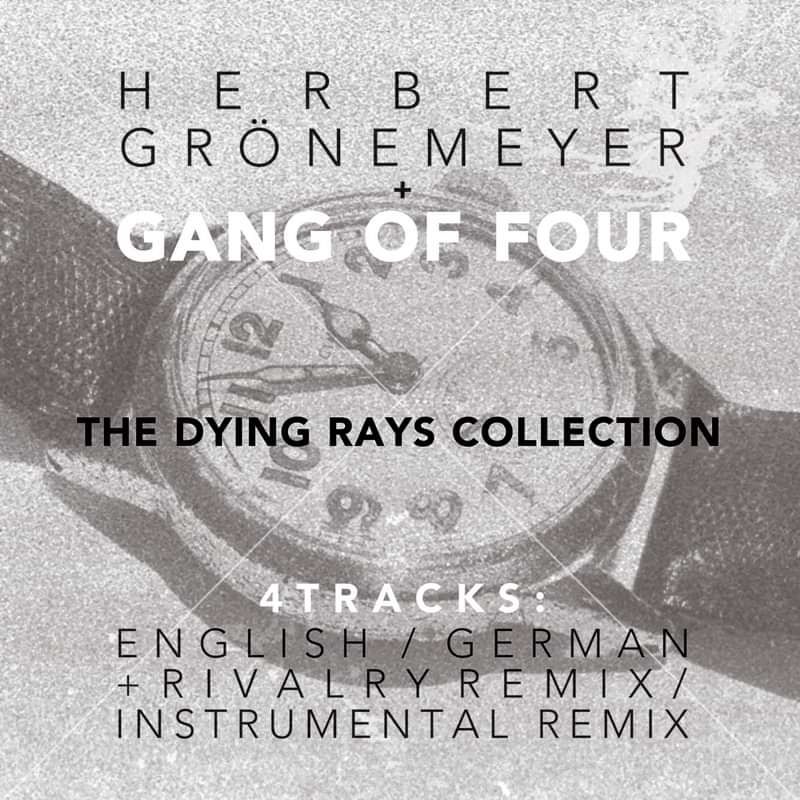 Die Staubkornsammlung/ The Dying Rays ft. Herbert Grönemeyer - vinyl EP
Picture sleeve version of the EP
Picture sleeve black vinyl version of 'The Dying Rays' ft. Herbert Grönemeyer with English and German versions of the song, plus remixes. Black vinyl. Released in 2015.
Staubkorn (Deutsch Version)
The Dying Rays (Rivalry Remix)
The Dying Rays (English Version)
The Dying Rays (Rivalry Remix Instrumental)
This is a song about impermanence that will last forever. Surprising, moving—haunting—'The Dying Rays' marks the innovative collaboration between the legendary Gang of Four and one of the world's greatest singers, Germany's top selling artist Herbert Grönemeyer.
'The Dying Rays' is epic and atmospheric, powerful, subtle, melancholy and unique, matching Herbert Grönemeyer's extraordinary voice with the textures of Andy Gill's guitar. The addition of the Rivalry remix to 'The Dying Rays Collection' completes this bold collection, the rolling beats aimed at the DJ, a sort of Broken Beat Garage; it is a deep and immersive re-interpretation of a song that defies the throwaway culture of modern times.
Control and power Empires were built in our minds But it will all go up in a blaze Only dust In the dying rays
Kontrolle und Macht Ganze Imperien haben wir uns erdacht Alles wird brennen lichterloh Es bleibt nur der Staub im letzten Licht